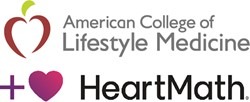 Stress-Reduction Innovator HeartMath®, Inc. Joins American College of Lifestyle Medicine Corporate Roundtable
August 23, 2018 – ST. LOUIS – The American College of Lifestyle Medicine (ACLM) has announced the addition of HeartMath®, Inc. to its Lifestyle Medicine Corporate Roundtable, a group of individuals and organizations whose collective vision is sustainable human health, a sustainable health care system and a sustainable world.
Founded in 1991 by Doc Childre, HeartMath has developed a comprehensive system of effective, scientifically-based tools, online programs, technologies and coaching to help people self-regulate their emotions and behaviors to reduce stress, increase resilience and unlock their natural intuitive guidance for making more effective choices. This enables people to break through to greater levels of personal balance, creativity, insight and health. Over 300 peer-reviewed or independent studies utilizing HeartMath techniques or technologies to achieve beneficial outcomes have been published.
"HeartMath is honored to be partnering with the American College of Lifestyle Medicine as both organizations are dedicated to providing evidence-based approaches to prevent and reverse lifestyle-related health conditions," says Deborah Rozman, PhD, CEO of HeartMath Inc. "Our organizations intend to collaborate on lifestyle methodologies that work 'from the inside out' to facilitate health and wellness."
"Stress management is an important pillar of Lifestyle Medicine," said ACLM President George Guthrie, MD, MPH, FACLM. "HeartMath is helping people build emotional resiliency and improve their ability to manage their stress. This is key to staying healthy. ACLM is pleased to have them in our Corporate Roundtable."
The Corporate Roundtable of the American College of Lifestyle Medicine convenes health care and lifestyle thought leaders, with a keen focus on the power of Lifestyle Medicine to transform health and health care. Roundtable members explore effective Lifestyle Medicine clinical applications, strategies for accelerating reimbursement, and adoption and analysis of potential business-related opportunities. The Roundtable launched in 2015 and has grown to include more than 30 active member organizations.
###
ABOUT THE AMERICAN COLLEGE OF LIFESTYLE MEDICINE: ACLM is the medical professional society for those dedicated to the advancement and clinical practice of Lifestyle Medicine as the foundation of a transformed and sustainable health care system. Lifestyle Medicine treats, often reverses and prevents chronic disease. It is the combined use of evidence-based lifestyle therapeutic approaches, such as a predominantly whole food, plant-based diet, regular physical activity, adequate sleep, stress management, avoidance of risky substance use and other non-drug modalities.
More than a professional association, ACLM is a galvanized force for change. ACLM addresses the need for quality education and certification, supporting its members in their individual practices and in their collective mission to domestically and globally promote Lifestyle Medicine as the first treatment option, as opposed to a first option of treating symptoms and consequences with expensive, ever increasing quantities of pills and procedures. ACLM members are united in their desire to identify and eradicate the root cause of disease. Learn more at http://www.LifestyleMedicine.org.
ABOUT HEARTMATH: HeartMath, Inc. is dedicated to facilitating a fundamental shift in health, wellness and performance. The company provides evidence-based programs, assessment tools, products and technologies for significantly reducing stress while improving resilience and performance. For more than 20 years HeartMath, Inc. and the nonprofit research organization, HeartMath Institute, have demonstrated through clinical studies the critical link between emotions, the heart and cognitive performance. HeartMath methods for self-regulation and in-the-moment stress management have been published in dozens of journals and more than 300 independent peer-reviewed papers. Currently there are more than 12,000 citations referencing HeartMath's work and research. Its clients include Duke Medicine, Stanford Business School, Lucile Packard Children's Hospital, Blue Cross Blue Shield, Cleveland Clinic, Kaiser Permanente, NASA and Boeing. Dozens of school systems, military and law enforcement agencies, Olympic coaches and athletes and thousands of health professionals around the world utilize HeartMath solutions for stress management, self-regulation, personal resilience and optimal performance. Learn more at https://www.heartmath.com/.