Samsung's Samsung Health Stress Index score uses HeartMath's HRV database to compare your score with normal scores for your age and gender.
Improve your Stress Index score and reduce stress with HeartMath's Inner Balance™ Bluetooth technology.
Benefits of HeartMath
Studies conducted with over 11,500* people have shown improvements in mental & emotional well-being in just 6-9 weeks using HeartMath training and technology:
24% improvement in the ability to focus
30% improvement in sleep
38% improvement in calmness
46% drop in anxiety
48% drop in fatigue
56% drop in depression
* N= 11,903
Percent of individuals responding often to always on normed and validated pre and post Personal and Organizational Quality Assessment (POQA-R)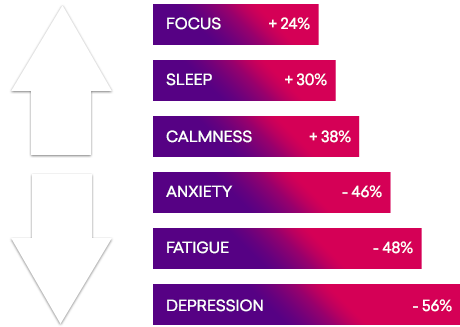 A Special Gift for Samsung Customers
Samsung customers receive a special 10% discount and free UPS ground shipping in the U.S. on HeartMath's Inner Balance Bluetooth technology when you use Coupon Code VSHEALTH at checkout.
Experience the difference
---
Frustration
Appreciation
Changing Heart Rhythms — Changes Feelings
---
HeartMath has discovered that our heart rhythm patterns are the best reflection of our inner state. By adding heart, you can shift in the moment into a state of balance and renewing feelings, such as appreciation, care, love and compassion.
Learn more about Science of HeartMath» Learn more about Science of HeartMath
HeartMath is based on over 26 years of research
Over 300 independent peer-reviewed studies

Recommended by thousands of health professionals

Used by hundreds of hospitals, schools, corporations and humanitarian organizations
HRV Database
HeartMath®, Inc. partners with Samsung Electronics Co., Ltd to provide HeartMath's Heart Rate Variability (HRV) Database and HRV expertise to Samsung Health users.
HRV allows us to accurately measure and manage stress– and that's a big deal for a world that is being consumed by stress.
Samsung licensed HeartMath's normative HRV database which contains thousands of healthy male and female subjects across an age range of approximately 5 to 80 years of age. All of the data was collected under the same conditions. The high standard makes it an ideal representation of HRV baselines for use in stress level assessments in the Samsung Health.
HRV reflects the health of the autonomic nervous system and our mental and emotional flexibility and ability to handle stress challenges without getting overwhelmed. Accumulated stress can lower HRV and reflects accelerated aging. The stress level assessment in the Samsung Health will compare a user's age and HRV with HeartMath's healthy normative HRV data for their age to reflect the user's overall accumulated stress level."
Opt-in for helpful stress tips and the latest from HeartMath